Reserve Now
Or call: 800.427.4124
Interactive Tour
Explore the train with the click of a mouse!

Special Events
Pink Moon
April 4th
,
6:30 PM
Moonlight Escape
Pink Moon
April 4th
Per-person: $229
Escape from the pressures of everyday life in the moonlit vineyards of Napa Valley. The only thing more romantic than a dinner for two in a private booth in the Wine Train's 1952 glass topped Vista Dome, is making the journey under the light of the full moon. Enjoy panoramic views of the silver painted vineyards through the Vista Dome's curved glass windows as you traverse the dimly lit Napa Valley. Experience the intimate adventure of an antique train traveling through the night at a reserved table set for two. This special event offers a private table for 16 parties with reservations. http://winetrain.com/events/moonlight-escape http://winetrain.com/events/moonlight-escape
Check-in at 5:30 PM
Departs at 6:30 PM
Returns at 9:30 PM
Meal: Multiple Course (Menu)
Wine: 1 Sparkling, 2 Glasses Private Label

Murder on the Wine Train Express
April 17th
,
6:30 PM
Murder Mystery
Murder on the Wine Train Express
April 17th
Per-person: $175
The Napa Valley Wine Train is pleased to announce a Murder Mystery play centering on the clandestine world of the gumshoe. Come prepared to mix and mingle, dress the part, or just get down to business and solve the murder. The year is 1915. San Francisco has been reborn from the ashes of the Great Earthquake and Fire of 1906. Under the vision of people such as D.W. Griffith, Mack Sennett and Charlie Chaplin, the silent film industry has taken off and revitalized entertainment. With the advent of a new railway, wine makers have discovered California's Sonoma and Napa Valley Wine Regions and are building an industry they believe will someday rival the wines of France. http://winetrain.com/events/murder-mystery
Check-in at 5:30 PM
Departs at 6:30 PM
Returns at 9:30 PM
Wine Train at a Glance
One of the Nation's only Active, Historic Passenger Railroads.
Voted the "Best Place to Take Visitors."
Special Wine Events and Dinner Theater.
Exclusive Winery Tours.
Family Owned.
"Is Wine Included On the Wine Train?"
Find the answer to this and other questions on our FAQ page.
The Napa Valley Wine Train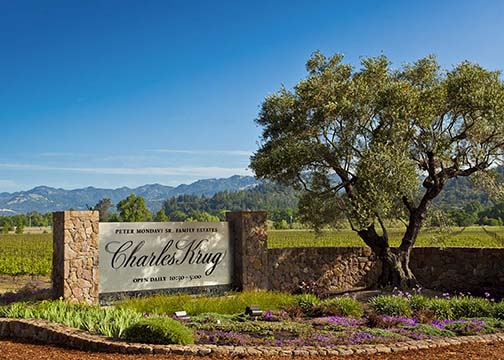 Package Includes:
Multiple course gourmet meal, 1.5 hour antique train ride, welcome taste of wine, & tours and tastings at Charles Krug Winery and Raymond Vineyards
Available Every Lunch Train
Beginning March 2, 2015
Three Napa Valley icons are coming together to create an unmatched Napa Valley experience for both locals and visitors alike. The Napa Valley Wine Train, Charles Krug Winery, Napa Valley's first winery, and eclectic Raymond Vineyards are partnering for a revamped Ambassador Winery Trip, where guests enjoy a day full of playful and educational tasting and touring.
Price Per Person: $234 - $264
On Board Dining
Vista Dome

$199 per person
Dine in elevated splendor. Our 1952 Pullman domed railcar provides our most private dining experience as only guests with reserved seating are allowed in the dining area of this two-story car with its panoramic views.
Gourmet Express

$124-$139 per person
Travel back to an elegant age. These expertly refurbished 1915-1917 Pullman Cars create an atmosphere conducive to relaxation and enjoyment. Enjoy two different types of railcar - a 1917 Pullman dining car and a 1915 Pullman lounge car.
Silverado

$124 per person
The Silverado Car showcases the Al Fresco side of the Wine Train. Open May through October for lunch only, weather permitting, the Silverado Car is a favorite way to enjoy a Napa Valley harvest with a high end California grill menu.
Wine Train Details
Schedule
| | | |
| --- | --- | --- |
| | Departure | Return |
| Lunch | 11:30am | 2:30pm |
| Dinner | 6:30pm | 9:30pm |
"It was an exceptionally wonderful day! We are still talking about how amazing the food was! And the staff made the trip a perfect day."
-- Anonymous Rode March 9, 2013
Take the Ferry from San Francisco!
Getting here from San Francisco could not be easier - or more pleasant. Hop on a ferry and enjoy a Bay cruise on your way to the Wine Train! Find out more...