Reserve Now
Or call: 800.427.4124
Email List
Receive news and promotions
Interactive Tour
Explore the train with the click of a mouse!

Special Events
Vintner's Lunch
October 24th
,
11:30 AM
Grgich Hills Estate
Vintner's Lunch
October 24th
Per-person: $179
Grgich Hills Estate is a family owned and operated winery dedicated to the art of winemaking and committed to natural winegrowing and sustainability, with 100% estate grown certified organic vineyards. Taste wines created by Mike Grgich, the winemaker behind the 1973 Chateau Montelena Chardonnay, which won the famous 1976 Paris Tasting and put Napa Valley wines on the map. After this monumental tasting, the world began to recognize that Napa Valley was producing delicious wines rivaling those of France. Mike's daughter, Violet, who is involved with every aspect of the wine business, will be on board with guests, sharing stories about her father, and about her love of wine country.
Check-in at 10:30 AM
Departs at 11:30 AM
Returns at 2:30 PM
Murder on the Wine Train Express
November 14th
,
6:30 PM
Murder Mystery
Murder on the Wine Train Express
November 14th
Per-person: $170
Daring and Dastardly Detectives deliberate on death and . . . book rights? A number of the world's greatest detectives are gathering on the Napa Valley Wine Train to see who will receive the royalties to the recently published best seller, called "The Detectives' Club." Under the terms of the contract, any of the eight detectives who are alive at midnight will share in the royalties - $5,000,000. Those who are no longer among the living will receive nothing for their estate. Join them and see if you can solve the murder, or murders, of The Detectives' Club. http://winetrain.com/events/murder-mystery
Check-in at 5:30 PM
Departs at 6:30 PM
Returns at 9:30 PM
Wine Train at a Glance
One of the Nation's only Active, Historic Passenger Railroads.
Voted the "Best Place to Take Visitors."
Special Wine Events and Dinner Theater.
Exclusive Winery Tours.
Family Owned.
"Is Wine Included On the Wine Train?"
Find the answer to this and other questions on our FAQ page.
The Napa Valley Wine Train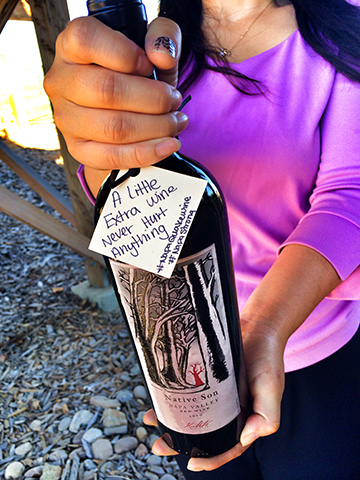 Napa Quake Wine
In the aftermath of the largest earthquake to hit the region in 25 years, the Napa Valley Wine Train is putting its wines that fell but did not break in the Napa Quake to work helping other survivors. The Wine Train is donating a portion of the proceeds of Napa Quake Wine sales to the Napa Valley Community Disaster Fund for Earthquake Relief. Though the labels may be stained and the bottles chipped, the wine inside is still among Napa's famous vintages and should not be worth any less because of some surface blemishes.
Together we can help Napa rebuild.
#NapaQuakeWine | #NapaStrong
Learn More
---
Operational Update 8/26/2014
We are back on Track. The Wine Train has opened for business as usual. Looking forward to seeing you here in the beautiful Napa Valley. Our thoughts remain with our neighbors, community, and friends who have been impacted by Sunday's earthquake.
On Board Dining
Vista Dome

$149 per person
Dine in elevated splendor. Our 1952 Pullman domed railcar provides our most private dining experience as only guests with reserved seating are allowed in the dining area of this two-story car with its panoramic views.
Gourmet Express

$119 per person
Travel back to an elegant age. These expertly refurbished 1915-1917 Pullman Cars create an atmosphere conducive to relaxation and enjoyment. Enjoy two different types of railcar - a 1917 Pullman dining car and a 1915 Pullman lounge car.
Silverado

$109 per person
The Silverado Car showcases the Al Fresco side of the Wine Train. Open May through October for lunch only, weather permitting, the Silverado Car is a favorite way to enjoy a Napa Valley harvest with a high end California grill menu.
Wine Train Details
Schedule
| | | |
| --- | --- | --- |
| | Departure | Return |
| Lunch | 11:30am | 2:30pm |
| Dinner | 6:30pm | 9:30pm |
"It was an exceptionally wonderful day! We are still talking about how amazing the food was! And the staff made the trip a perfect day."
-- Anonymous Rode March 9, 2013
Take the Ferry from San Francisco!
Getting here from San Francisco could not be easier - or more pleasant. Hop on a ferry and enjoy a Bay cruise on your way to the Wine Train! Find out more...