Reserve Now
Or call: 800.427.4124
Email List
Receive news and promotions
Interactive Tour
Explore the train with the click of a mouse!

"Is Wine Included On the Wine Train?"
Find the answer to this and other questions on our FAQ page.
The Napa Valley Wine Train
Wine Train at a Glance
One of the Nation's only Active, Historic Passenger Railroads.
Voted the "Best Place to Take Visitors."
Special Wine Events and Dinner Theater.
Exclusive Winery Tours.
Family Owned.
What's New
Have you experienced a Vintner's Lunch on board the Wine Train?
Spend an afternoon enjoying a one of a kind food and wine pairing excursion at the Wine Train's Vintner's Lunch Series. Each event showcases a unique tasting menu that our Executive Chef, Kelly Macdonald, pairs with the extraordinary wines of our guest vintner. Chat with the chef and vintner while you gaze upon Napa's Vineyards from an elevated booth in the Wine Train's 1952 Vista Dome Car. These special events book quickly, Make Your Reservation Today!.
Available June through October
Please Call 800.427.4124 for Reservations or
On Board Dining
Vista Dome

$144 per person
Intimate, special and above the crowd. Almost 180-degree Napa Valley vistas under the antique dome windows. Enjoy wine pairing events and romantic moonlight dinners.
Gourmet Express

$114 per person
Relive the luxury and tradition of railroad dining as the steward seats you in the Gourmet car. White linen service for half your journey. The other? The comfort of the lounge car.
Sip and Supper $134
Ambassador led wine tasting before dinner
Every Dinner Train
Silverado

$99 per person
Taste the grilled side of Napa Valley gourmet in the Silverado car. This open air railcar exudes a relaxed atmosphere, with a western theme and sliding windows.
Wine Train Details
Schedule
| | | |
| --- | --- | --- |
| | Departure | Return |
| Lunch | 11:30am | 2:30pm |
| Dinner | 6:30pm | 9:30pm |
"It was an exceptionally wonderful day! We are still talking about how amazing the food was! And the staff made the trip a perfect day."
-- Anonymous Rode March 9, 2013
Take the Ferry from San Francisco!
Getting here from San Francisco could not be easier - or more pleasant. Hop on a ferry and enjoy a Bay cruise on your way to the Wine Train! Find out more...
Featured Video
Wine Train History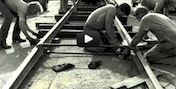 Learn About the History of the Wine Train
and The Napa Valley Railroad
Enjoy a Winery Tour
Our winery tours include a gourmet lunch or dinner on the Wine Train, train fare, and a private group tour of one to two unique Napa wineries.
Prices range from $139 to $204 per person.
Details
What's a Wine Train?
This top dining establishment is housed in an antique train that runs on 25-miles of track in the heart of the Napa Valley.
The train itself has two engines, three kitchens on board, and a collection of early 20th century rail cars that are pure Americana.
The Napa Valley Wine train offers guests great regional food and fabulous, hard-to-find wines.
Help preserve American history: ride the Wine Train. A truly unique opportunity to get up close and personal with our Nation's past.
WATCH THE WINE TRAIN IN ACTION...