Reserve Now
Or call: 800.427.4124

A Message From Our Chef
The dedicated kitchen staff of the Napa Valley Wine Train believes wholeheartedly that "anyone can cook." However, being able to see the entire picture is what makes a great chef. The entire picture you ask? Let me explain. We
Use fresh local produce
Use natural, hydroponic vegetables and lettuces
Use fresh, farm-raised fish and shellfish native to California
Use fresh, line-caught fish
Use humanely raised meats
Do not use chemically enhanced products
Do not use meats enhanced with growth hormones
Additionally, by taking an aggressive approach, the Napa Valley Wine Train is one of the Valley's leaders in recycling. Not only does recycling save landfill space, it also saves energy and water, conserves natural resources, and reduces pollution.
Doing these things, along with serving safe, beautiful, appetizing, gourmet meals is what makes the Napa Valley Wine Train kitchen extraordinary and without equal.
--Kelly Macdonald
Executive Chef, Napa Valley Wine Train
March 6, 2008
About Our Food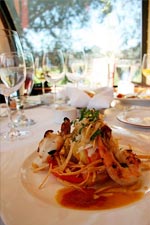 The Napa Valley Wine Train is one of the most unique restaurants that you will ever visit. Our chefs have practiced for years to be able to present a fabulous gourmet meal, the equal of any at Napa's other great restaurants, on a moving train. Just like at other fine dining establishments, when you are a guest on the Napa Valley Wine Train you can order off a menu or choose the special of the day and we cook your food only after we know exactly how you like it.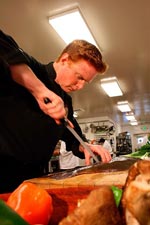 We have three kitchens on board the Napa Valley Wine Train, and we love it when guests come to see us at work. We have even installed windows on our main kitchen so that guests can watch the grill fire from 3 feet away! When you come on the train be sure to ask your server when the best time to visit the kitchen would be, then come and see how we do it in person!
"Sustainable" is the movement to use farming, harvesting, and shipping methods that are the most environmentally sound. Besides lessening our impact on the environment, using sustainable foods guarantees that we are getting the best food at its peak ripeness, or in the case of meat and fish, at its freshest. Learn more about our commitment to the fresh products by visiting our Fresh and Sustainable page.
---
Food Allergies and Dietary Restrictions
Every day, we serve a variety of guests with different dietary restrictions and food allergies. Like any good restaurant, all of our menu choices are freshly prepared to order. In our case, they are all prepared on board the Train. With advance notice, we will be better equipped to handle your special menu request. When making your reservation, please alert your booking agent of your needs. The agent will submit your information to our kitchen staff and to our on board manager. It is also necessary to remind your server which member of your party has the allergy. Rest assured, we handle hundreds of allergies weekly and with ease. We look forward to serving you and your family soon.
---
Napa Valley Wine Train Food
---
"A Moveable Feast" - Wine Portfolio
The Wine Train segment from "Wine Portfolio", CNBC, October 2009. Thanks to Jody Ness and the crew who worked on this segment. The Wine Train loves your show. If you love Jody's show, check him out at http://wineportfolio.com/!
---
Cooking Vegetarian for the Hippy Gourmet
That's right, we prepare vegetarian meals on the Napa Valley Wine Train!